Self regulating Heating Cable
Self-regulating heating cable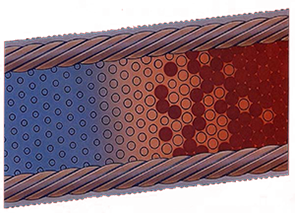 TRACECO™ and ESR™ self-regulating heating cables, also called heating cables, electric tracers, are electric cables which have been developed to protect against freezing and/or maintain pipes, tanks, flanges, valves, pumps or any other surfaces. Self-regulating heating cables are used in buildings, in industry, in agro, to protect pipes, tanks, containers, farms, as well as for defrosting gutters and downspouts, defrosting negative cold room door seals. For maintaining the temperature of pipes, tanks, containers... They can be cut to any length and avoid any overheating. Easy to use.
Download your Self-Regulating Cables catalog
Les câbles autorégulants peuvent être immergés (à l'exception des raccordements) lorsque la mention IP68 est indiquée sur le câble. Les câbles autorégulants en fluoropolymère (type ESR™-BOT et ESR™-H-BOT) sont particulièrement résistants et peuvent être utilisés en milieu corrosif (industrie chimique et pétrochimique).
Details

Parent Category: Electric heating cable
Category: Self-regulating heating cable
Also available:
Self regulating heating cable "Medium temperature"
FOR TEMPERATURE MAINTENANCE, FOR DOMESTIC HOT WATER, WARM WATER PIPE, OILY WASTE WATER, TANK, VALVES, ALSO TO AVOID THE RISK OF LEGIONELLA, ,..

By using our heat tracer type TRACECO-W you get the best heat tracing system. They are designed to maintain networks of warm water temperature and avoid the risk of legionella.
Self Limiting or Self Regulating Technology allows easy operation safely. The power changes depending on the temperature and prevents overheating.   
When it is cold, the polymer shrinks and facilitates the flow of current, thereby increasing the temperature of the cable. As it gets warmer, the polymer expands and prevents the current: the Self Regulating cable heats less than before.
Finally, a « parallel » technology allows the cable to be cut to desired length directly on the site. Exact fit the length of heating cable for your needs.
The Box storage system on coil allows easy handling, quick and convenient. This product is in stock and can be used with the fast connector system DomoClickTM
Bus wire Cu nickel-plated (2x1.25mm²)
Self limiting heating element
Insultation
Tin-plated copper protective earth wires with Protective aluminium foil
Thermoplastique outer jacket
Self regulating heating cable power curve TRACECO-W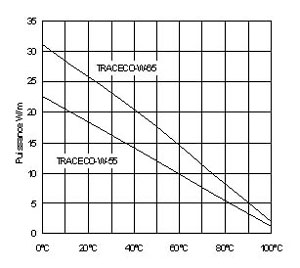 Nominal Voltage 230V
Maximum length circuit:

TRACECO-W-65……… 110 m
TRACECO-W-55……… 130 m

Tolerances -0/+5 W
Maximum exposure temperature (energised) 80°C        
Maximum exposure temperature (deenergised) 100°C        
Minimum Bending Radius 27 mm
Minimum installation temperature -20°C
Weight approx 90 kg/km
Download the technical datasheet TRACECO-W heating cable