Thermostat & Control
Thermostats and Controlers
Thermostat and electronic regulation for electric underfloor heating, heating cord, self-regulating heating cable for building, industry and refrigeration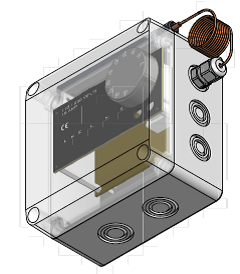 Details

Parent Category: Heating Cables Accessories
Category: Thermostats and Controlers
Also available:
Ambient and Surface Thermostat with two heating cable outlets ELTH-A5
TWO HEATING CABLES THERMOSTAT
Download the ELTH-A5 thermostat datasheet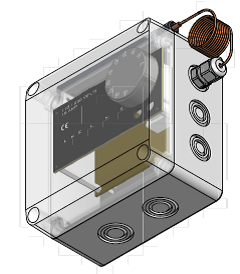 The temperature controller type ELTH-A5 is used as a surface thermostat or as an ambiant thermostat with a remote sensor. It allows the direct connection at the output of one (1) or two (2) heating cables or one (1) or two (2) electric cables (type RVFV-U1000-3G2.5) plus the direct connection of a power supply (type RVFV-U1000-3G2.5).
The device is delivered in its case with a transparent cover which protects it from splashes and can be used in assembly wall. It can be used in an industrial environment (cold industry, maturation, etc.).
It is perfectly suited to the building, construction and industrial market. The thermostat is a liquid expansion type. It is a tinned copper bulb sensing element with a stainless steel diaphragm. Depending on the type of cable and the number of cables, please follow the appropriate option.