Electrical box with built-in thermostat, contactor and circuit breaker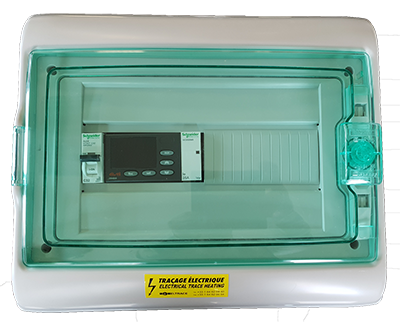 The range of CTx Technical Boxes by ELTRACE type CT1 in 230 V or CT3 in 400 V are fully equipped to be totally and easily operational. CTx electrical panels are essential elements for the proper functioning of our heating systems.
Characteristics of the box with thermostat
Self-extinguishing: resistance to incandescent wire 750°C in accordance with ERP regulations Watertight boxes - IP 65 - IK 09 - Class II - UV resistance. Impact reinforced polystyrene material
Standards
EN NF C15-100, EN 60730-2,-9, IEC 62 208, EN 60695-2-11, ISO 4892-2, IEC 62 208 & EC 61 439-3 La gamme des Coffrets Techniques CT par ELTRACE type CT1 en 230 V ou CT3 en 400 V sont entièrement équipés pour être totalement et facilement opérationnels.. il sont des éléments indispensables au bon fonctionnement des nos systèmes de chauffage.